>> Tuesday, May 22
It's Saturday and we're off to Cebu in a fastcraft from Tampi to Bato around 7:40 in the morning. With only a glass of oatmeal for breakfast I was still a bit nervous of the trip. I might get sick or what (since I'm still not used to travelling a lot) but I have E.M.A. with me so what the heck, I brave the idea of going to Cebu in a bus.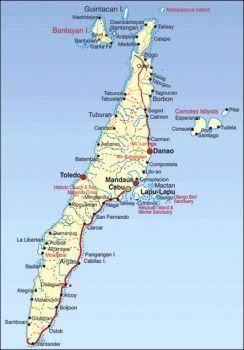 After about 4 long hours sitting in a bus with my head about to explode and praying to God to spare me the agony of throwing up in front of many people, the sign "Welcome to Cebu City" was a sight to see.

We spent the whole afternoon at Ayala and SM, stuffing our faces with every food we can get our hands on, from Dimsum Break (lunch) to Max's Fried Chicken (dinner) with sweets here and there in between.. hmmm... just thinking of it makes me yearn to go back there. teehee...

Sunday morning, we had to wake up a bit early again for our trip to Kawasan (in Badian, try looking at the map..). It's another 3.5-hour travel back southwest of Cebu. We took the Librando bus (as adviced by Orven 'cause it would take us directly to the place) not knowing it would make a stop-over somwhere, so we had to wait for a couple of minutes. Finally we went on with the trip. Trying to take my mind of the long bus ride, I took a nap confident that E.M.A. wont doze off too. So after about 120 km of bumps and a freakin' headache, we finally reached Kawasan.. whew.. what a relief..




E.M.A. and I decided to walk to the falls since they said it's just a "walking distance." To my dismay, it's absolutely not [sighs]. It's a long walk to the falls, not to mention the slippery road and the back-breaking, thigh-aching climb up towards the second falls (the first one is already full of bakasyonistas). Finally, we arrived. The familiar faces of Marlon and the others were so relieving to see.





The water was so cool and refreshing. Swimming is definitely a must in Kawasan. The place is great, the food was delicious (thanks to Mia), and the company is fun. All the aches and pains and bumps along the way were all worth this.




I'm back at work now... but the two-day trip with E.M.A. was just the break we both needed from all those months of working... where to next babz? :)




*more pixies to be posted later...